Institute for music:
The journey of 9notes began in the year 2010 with the Sole purpose to helping people understand the power of music. At 9notes we help people choose from a wide variety of styles be it regional, classical, western or the likes. We offer classes for people across all age groups. In order to accomplish all this we have the best in class highly qualified instructors who have a worldly experience and have been the guiding light for many aspirants to reach great heights in their lives.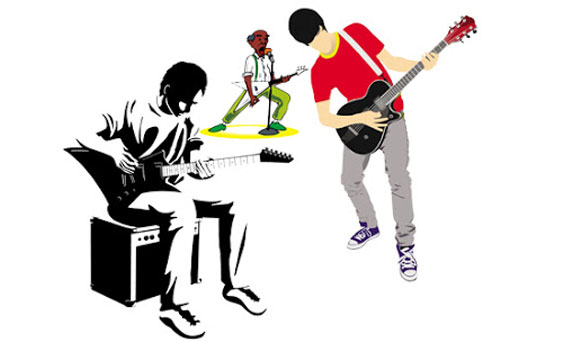 Stage 9:
Stage 9 a student driven musical fest has been carved in the history of 9notes as a very important milestone. Stage 9 is a platform for showcasing talent of our students and the strength of our 9notes family year on year.
Clinic 9:
In order to kindle the inspiration and the learning process among the students we bring stalwarts from musical fields on a regular basis. They will share their valuable insights/ lectures and demonstrations on various instruments.
Band 9:
Band 9 is a music band created for the students, by the students & of the students which will have regular jamming sessions every week that would keep our students on their toes.
Meaning of 9notes:
We all have heard of the 7 musical notes, in addition to these 7 notes we bring in 2 special notes just for you. 8th note being the rich experience that our renowned teachers are known for and the 9th notes refers to the creativity that we build in the minds of our students. Thus the name '9notes' was born.
Study Circle (Tuition centre):
Great leader of our nation has said….
"Education is what makes a person fearless, teaches him/her the lesson of unity, makes him/her to struggle for his/her rights".
We launched our 9notes Study Circle in the year 2012.
Students should enjoy studying and should face the exam's with confident.
Parental care, friendly approach makes our students to be happy and confident.
Personal growth, Mental strength and well being is very important for the future of our children so we are here with Career & Student Counselling.
Education is the foundation of the head for the advancement of any society. An individual is empowered with thinking.
We respect parents anxiety and guide our students with our efficient respectable teachers.
Scorning good marks is important at the same time they should understand what they learn.
Understanding the subjects and scoring good marks is very important. Very very important is Manners, Discipline, Affection and Truthfulness which will leads the students to the higher-level with fame in their future.
We take care of our students as our children in all aspects with the support our respectable teachers and loveable parents.
School of Arts:
Art is the expression of our imagination. It helps for observation, discipline and learning.
9notes School of Arts was inaugurated in the year
Art in any form helps to boost our memories and for our Personal growth in Positive way.
Our mind will speak when we express our innermost thoughts.
Art is more than meditation which gives peace of mind and joy.
Our precious teachers teach our children to learn about themselves through Art.